The Essentials of Storing Firewood in the City
Too bad we don´t all have room to store firewood. However in most homes in the Capitol, we need it. This calls for Pinterest! Or start using the creative mind you were given and incorporate it to your living space.
Check out some ways and some things to think about when storing your seasoned firewood.
The Essentials
Firewood is not stacked a certain way just for organization. When your wood is layered in single rows than stacked in back to back rows or even worse thrown like a pile of dirty laundry, you allow enough breathing space. More air can circulate around your wood and you allow any extra moisture to evaporate.
You do not want to have them stacked against your home outside. This will attract pests and insects. But if you already did, please don´t make it worse by spraying pesticides on them as you will put your health in risk once you use it to burn.
Can You Use a Firerack?
If you use a lot of firewood during the cold months, it would be wise to use a firerack. All that money you spent on cords of firewood is useless if you don´t store it properly. Having a firerack will protect your wood from moisture. If you can put the firerack behind the house for no passerbys to see, putting a tarp on top of the stack is an inexpensive way to avoid moisture from rain or snow.
Also, tying it down will prevent some from blowing away.
Your ideal firerack should be tubular steel-framed, as it is rot-proof and rust-proof. They should be available in your hardware department stores and offer different dimensions. This will guarantee proper air circulation as the logs will be elevated away from ground moisture.
Add to Your Decor
We are in the era where the modern look with a touch of natural elements, add real life to a home. This is your chance to use what occupies your storage space to something more practical and in the same way adding flavor to your home. It´s time to think of incorporating those logs into your home decor!
There are so many fasinating ways to store you wood according to your home design. It can be in the wall, under the hearth or even stacked right beside your fireplace! You can even think of looking for old furniture and retrofitting it as a storage area.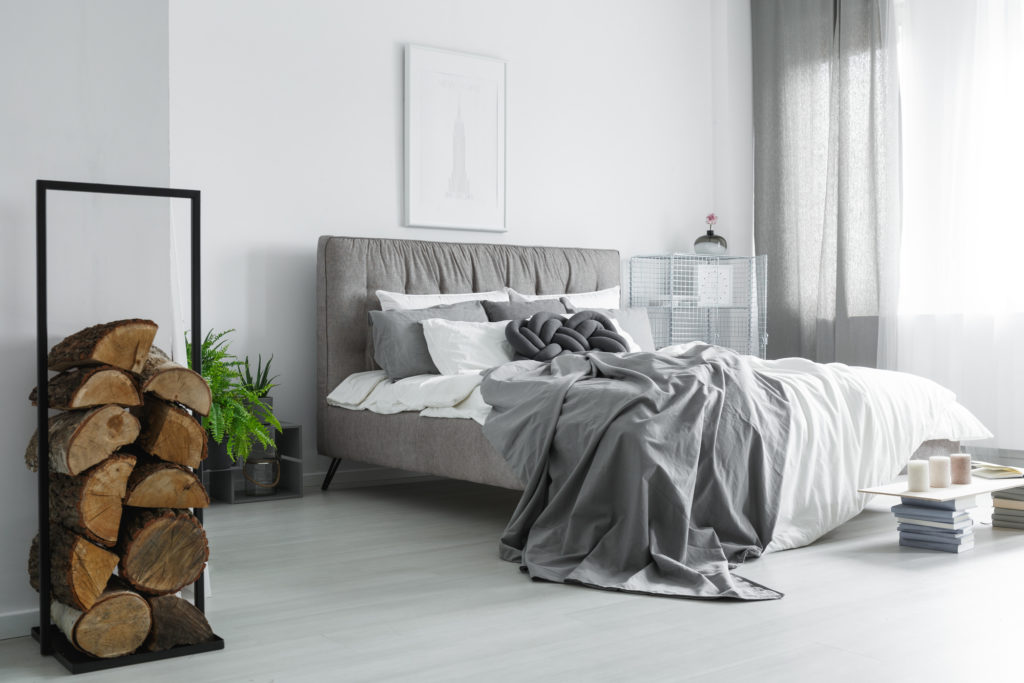 You can go on Pinterest to log on and search firewood home decor.
Tips for Home Decor
MUST! Make sure your wood in seasoned for about a good year before you bring it inside. If not, you will get bugs and insects in your home.
Practicality is first. Think about how you function and your home. If you create a huge wall stacked of wood, will you need to always get a ladder to start the fire? Can it be dangerous? Your wood will end up sitting there since no one will want to start it.
Always stack your wood with durable material. You don´t want to be stacking your wood on something that doesn´t keep the wood stable. Having a rubber mat below is ideal as it is skid-proof.
Do not be spraying your logs with air fresheners or insect repellents.
Make sure you store your firewood properly even though you are tight on space. If you have no room outside, why not add it to your home inside. It is part of your home living in the city life.